Ride for Life
Topsham to Venice in Aid of Cancer Research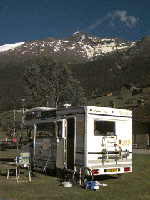 Our camp, at the base of Mont Cenis.
Day 10 -- Friday June 20th
Proposed Route: St Pierre d'Albigny-Lanslevillard
Estimated Mileage: 70 miles/110 km
Actual Route: St Pierre d'Albigny-Modane (past the entrance to the Frejus Tunnel)-Lanslevillard
Mileage Covered: 65 miles/107.5 km
Average cycling speed: 13.13 mph
Maximum speed: 28.8 mph
Cycling time: 4 hours 57 minutes.
Terrain: Mountainous; an unrelenting climb.
Weather: Overcast at first, then sunny. Wind Force 2, behind us all day.
Degree of Difficulty:





Narrative: We are camped at the base of Mont Cenis, it is a glorious evening, the alpine air is fresh, and a royal eagle is wheeling its way over us. We can see the Col that we will attempt on Sunday -- after a rest day -- and it looks passable. But what a long and sometimes painful way we've come to get here.


Today's ride was not as long as yesterday's, perhaps not quite as difficult, but it was unrelenting: a 65 mile climb from St Pierre d'Albigny to the head of the Mont Cenis Valley, rising from an altitude of about 300 metres to nearly 1500 metres above sea level (to put this in context, the Haldon Hills, with the Mamhead rise as our toughest local climb, is under 300 metres). Mostly the terrain rose gently, but at times there were savagely steep stretches. The ride was made particularly unpleasant by the narrowness of the road and the numerous lorries that thundered along this stretch on their way to the Frejus Tunnel that leads to Italy. But after Modane, where most of the traffic peeled off into the tunnel, the ride was truly magnificent, following the fast-flowing Arc River up towards its alpine source through a stunning and dramatic gorge surrounded on all sides by high snow-covered peaks.


Today's ride was also about pain and about overcoming it. Nello's knee had stiffened considerably overnight, and he found it extremely painful and difficult to cycle this morning. But he gritted in and rode through it. I myself was not without certain aches and pains (no, thankfully not where you are thinking). But we've arrived here all the same. As we coasted into Lanslevillard, and sat outside in the sun at an outdoor table and enjoyed a couple of bieres, we considered the distance and all the places we've been to and seen on this long, hard haul across France. Well, now we are ready for a rest, and then a new phase of the journey begins as we climb our mountain then make our way into Italy!


Harry is Nello's assistant in the kitchen tonight: they are preparing a minestrone and afterwards we'll grill some sauccises.
---
---

---
Please send any comments about this web site or Ride for Life to:
marc@quaypress.com