Ride for Life
Topsham to Venice in Aid of Cancer Research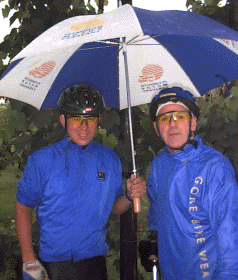 Rain, rain, go away, come again not on our second to the last day!
Day 17 -- Friday June 27th
Proposed Route: Isola della Scala-Montegrotto Terme
Estimated Mileage: 65 miles/105 km
Actual Route: Mantova-Venezia Fusina
Mileage Covered: 102.37 miles/169 km
Average cycling speed: 15.29 mph
Maximum speed: 24 mph
Cycling time: 6 hours 41 minutes.
Terrain: Mainly flat with some undulating stretches.
Weather: Heavy rain. Wind Force 3-4 east-northeast
Degree of Difficulty:




Narrative:"To travel hopefully is a better thing than to arrive, and the true success is to labor," said Robert Louis Stevenson. There is indeed much to this oft-quoted (and misquoted) saying: we have indeed laboured hard, and the travelling, the lure and excitement of the road, of the journey itself, has been more than good.


We are now close, so very close, to our destination. It's not yet 6:30, but Hugh and Harry have already ditched us: they raced into Venice this evening on the boat from Fusina almost the minute we arrived, drenched, sweaty and grimy after many hours on the road. And who can blame them, their duties successfully and most ably discharged in seeing us here safely: they have been absolutely wonderful and selfless, and we could not have got here without their noble efforts. We ourselves have now showered, and we're relaxing with an excellent glass of Pouilly Fume (purchased at the vineyard on that classic ride through the Loire what seems nearly a lifetime ago), reliving at liesure some of the highs of this epic journey.


Today's cycle, however, has not been one of the highs: in fact, it rates as one of the toughest rides we have endured. It was almost universally assumed -- perhaps, who knows, even by us -- that once we had crossed the Alps, it would have been figuratively speaking all downhill through Italy to Venice. In fact, we have had some of our hardest riding in the last days: but hard not because of the terrain, which has been on the whole detestfully flat, but due to the strong easterly headwinds, the narrowness of the roads, and the heavy streams of fast traffic, mainly large lorries that have threatened at times to blow us clear off the roads.


Today torrential rain for most of the day allied with the unrelenting wind made this a particularly hard and testing century, fitting, I suppose, for our last long ride. When we set off at 8:30 this morning, it was absolutely bucketing it down, and we cycled out of Mantova on roads that at times were flooded and treacherously slippery. When the huge lorries thundered by us, a blast of fine spray mixed with diesel grime smacked us in the faces as if sprayed from a high pressure hose. Sometimes it was hard simply to keep our balance on roads that had no hard shoulder as the lorries sped past, though fortunately our robust English touring bikes, with their wider tires, wheels and mudguards (something no serious bike in Italy would be caught dead with) served us well.


The road, on the whole, was not quite as flat as yesterday's but it was soul-numbingly straight and dull, without undue rises all the same: not, as you may have gathered by now, my favourite sort of cycling terrain. Still, today nothing was going to stop us from reaching our destination, and as we got closer and closer, we could almost smell the sea and feel our proximity to the Adriatic (remember, the last time we were by the sea was at Cherbourg some 16 days ago). We then took a scenic long-cut (just for the heck of it) up to the Brenta Canal and cycled past some of the most splendid Palladian villas on our way to Fusina, this rather grim industrial outpost on the fringe of the Lagoon.


Of course, we are not quite in Venice yet: that delicious treat of seeing our families, friends and loved ones in Piazza San Marco awaits us tomorrow. But for all intents and purposes the cycle itself, we must ackowledge, is over. The reality of reaching a destination that has loomed in the far-off distance for so long -- through all the months of preparation, the winter training, the fundraising, let alone these past 17 days on the road -- has probably not really yet quite sunk in. The truth is, after today's hard and testing ride, we are probably too dog tired. It's 9:15 pm, and Ugo and Harry have just returned from Venice, exhilarated, like two kids, by the wonder and magic of it all. Nello is cooking penne al Nello, one of his signature dishes, made with a special sauce of tomatoes, cream and pesto, and roast vegetables, and we are all ravenously famished. Perhaps it is the sea air?


"To travel hopefully is a better thing than to arrive, and the true success is to labor." Well, yes perhaps, R.L. But tonight, I tell you, it feels mighty good just to be here. To have arrived.
---
---

---
Please send any comments about this web site or Ride for Life to:
marc@quaypress.com