Ride for Life
Topsham to Venice in Aid of Cancer Research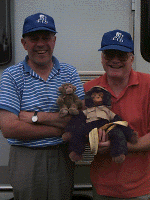 Bill (right), Carolina and friends.
Day 3 -- Friday June 13th
Proposed Route: Bayeux-Caen-Livarot-St Evroult Notre Dame du Bois (note: Fri the 13th)
Estimated Mileage: 81 miles/ 130 km
Actual Route: Bayeux-Caen-Livarot-L'Aigle
Mileage Covered: 85 miles/136 km
Average cycling speed: 16.6 mph
Maximum speed: 37.9 mph
Cycling time: 5 hours 07 minutes.
Terrain: Easy, flat through Caen, then quite.hilly through the Camembert country
Weather: Cloudy with some torrential rain. Cool, pleasant temperature for cycling. Wind SW Force 2, mainly on the nose.
Degree of Difficulty:


Narrative: Oh, the joy of a steaming hot shower at the end of day's ride! When your muscles have that hollow ache that comes from days of repeated riding, there is little better than to luxuriate under a constant flow of almost scalding water (well, perhaps the Swedish masseuse would have been better). We seem all four of us to have adapted fairly well to the pattern not just of cycling, but of living in campsites (though Harry's first experience of a French toilet last night left him in a state of deep and worrying shock -- Hugh did eventually manage to revive him).
We are now in L'Aigle, a small market town in deepest Normandy, it is still raining, but we are washed and relaxing while Nello is preparing a minestrone. We left Bayeux this morning on a day that was always threatening rain, and cycled through the heart of the Normandy bocage. The first town we went through was Caen, handsome with its stout chateau and gothic cathedral, and bustling with daily French activity. It is a lovely time of the year to be cycling across France: though the weather is not yet settled, the Normandy countryside is beautiful, lush green with fields of fresh, waving wheat and barley punctuated with splashes of bright red poppies.Where the hills begin, the wheat gives way to apple orchards for the production of cidre and Calvados as well as fields populated by herds of brown-and-white cows, source of the rich milk that yields the outstanding cheeses of the region. Indeed, we cycled for awhile along the Route du Fromage, through the great cheese towns of Livarot (source of one of our favorites, a pungent rind-washed cheese known as "le colonel") and Vimoutiers, capital of Camembert.
The climb out of Vimoutiers, however, caught us by surprise, a particularly long and savage rise, and from there on the terrain remained up and down until our destination, with plenty of short, sharp rises along the way that we really had to dig in for. All in all, though, today's ride was not as difficult as we anticipated: our training ground in East Devon had prepared us well for this sort of terrain, and we wholly enjoyed cycling through the Norman countryside, that is until the heavens opened up on us yet again in the afternoon.
A word about our support team: after a start that was perhaps less than auspicious, Hugh and Harry have been looking after us famously. Our cycling advisors Phil and John had stressed the importance of keeping the riders fed and watered regularly. So, for example, today when we met up at about 10.30 am after our first 25 miles, the kettle had just oiled and the duo offered us the choice of either warm croissants or warm quiche, fresh from the boulangerie: we opted for both. At lunch just before Livarot, we sat outside in a fleeting moment of sunshine and enjoyed a magnificent picnic of baguettes with pate d'oie (goose liver pate), ham, and Camembert. They were always on hand to change our water bottles. Later in the afternoon, when the rain had descended upon us and we turned up in a lay-by like drenched muskrats, Hugh played his ace card: yes, a slice of Anna's famous fruit cake -- made with port and brandy -- to cheer us up before we carried on for the final wet 15 miles. So the chaps have been magnificent, though at this rate of feeding, I fear we might end up too fat to climb the Alps. (Come to think of it, at this rate of feeding -- they are matching us almost bite for bite -- the support vehicle might end up too overloaded to climb the Alps.)
Speaking of food, I must say that I am now feeling a little peckish myself (it's about 8 pm as I write this). So I'd better get cracking since it's my turn to cook tonight, something simple using local ingredients: escalopes of pork flambeed in Calvados, then simmered in cidre with apples and creme fraiche d'Issigny (Issigny is a small town at the bottom of the Cotentin Penisula that we cycled through yesterday).
Thank you to everybody who has sent us emails. It is really cheering to hear from you, and to know that you are behind us and following our progress.
P.S. Happy Birthday to Bunty on Sunday!
---
---

---
Please send any comments about this web site or Ride for Life to:
marc@quaypress.com