Ride for Life
Topsham to Venice in Aid of Cancer Research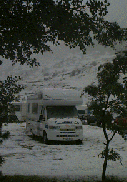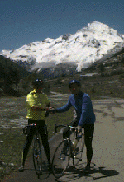 Snowing in the Alps at 11 am (left); our departure in brilliant sunshine at 1:38 pm with the Dents de Parachee in the background
Day 12 -- Sunday June 22nd
Proposed Route: Lanslevillard-Bussoleno-Avigliana
Estimated Mileage: 50 miles/80 km
Actual Route: Lanslevillard-Bussoleno-Avigliana
Mileage Covered: 48 miles/78 km
Average cycling speed: 14.65 mph
Maximum speed: 35.1 mph
Cycling time: 3 hours 15 minutes.
Terrain: Mountainous.
Weather: Blizzard conditions in the morning; afternoon sunny but cold on Mont Cenis, then warm as we descended into Italy. Wind Force 4, variable and gusting.
Degree of Difficulty:






Narrative: Sunday 9 am Lanslevillard Last night we listenened to the rain on the top of the van, and awoke to a day wreathed in low mist, the mountains just before us no longer even visible. About an hour ago, the snow started: not just a few flakes, but a near white-out, a virtual blizzard. It is settling thickly on the hills and ground, as well as over the vehicles and tents in the campsite and shows no sign of relenting in the immediate future.


What a shame! We went to bed last night with a keen sense of anticipation, looking forward to today's climb over the Col du Mont Cenis into Italy. It seemed as if we had done most of the work already, and we were looking forward to it greatly. But today the mountains, so unmoving and formidable, have had their say: we will have to wait as there is no question whatsoever of departing in these conditions. The van could not even make it over the pass, let alone us on bicycles.


I am reminded of last year's Tour de France. On June 8th, the Tour was supposed to pass over the Col d'Isseron from Val d'Isere across to this valley, passing the road just in front of where I sit at this moment. However, a white-out in the mountains caused the organisers to abandon that stretch, and so the whole entourage came across the pass in cars and then tried to set off from Lanslebourg, just a few kilometres down the valley, the town where we had lunch yesterday. The conditions worsened, though: in addition to the snow, a horrendous 120 kph wind screamed up the valley making riding impossible and the entire stage had to be abandoned.


Our stage, our climb, will not be abandoned. We shall simply have to be patient and wait until the weather and the mountain allows us to climb it. This afternoon, perhaps, or else tomorrow. Or else the next day. But climb it we will.


11:30 am Incroyable! The snow continues to fall in huge wet flakes: there are now at least two inches on the ground, and there is no sign of it slowing up. The clouds remain low, and we still cannot see the mountain pass. It is not, I am afraid, looking good for today, and unless there is some miraculous and sudden change, then we may have to stay put for another day.


1 pm The swiftness that the weather changes in the Alps is unbelievable: the snow has stopped, there is now a beautiful blue sky, the mountains look stunning with their covering of white, and our mountain pass is visible and inviting. We've just eaten a steaming bowl of lentilles au petit sale and shall shortly tog up to begin our ride!


9:50 pmWhat day, what a magnificent, classic climb. The weather cleared with astonishing rapidity. Once the snow stopped falling and the sun came out, the road up to the Col steamed as it dried out and the sun was hot. The sky was a deep, beautiful blue that contrasted sharply against the white of the mountains, and the air was fresh and cool, like you only get in the mountains after a flash storm that has blown away all the grey and heaviness.


We set out on the climb at 1:38 pm.Though undoubtedly there are mountain passes that are more severe, the Col du Mont Cenis is nonetheless a climb that would rate five-banana by any standard. On the map, it is marked with a hash for most of the climb, and with two hashes towards the top, indicating the severity of the incline. It winds in sharp hairpins up to the pass over 10 unrelenting kilometres, most of the way considerably steeper than Mamhead, our hardest local climb. It is the sort of climb that you just settle into, get a rhythm, concentrate and keep peddling.
As we soon rose above the large slate rooves of Lanslevillard, the views across the valley were quite magnificent, especially looking across to the dramatic Dents de Parachee. We were togged up in our winter gear: long tights, thermal tops, plus windbreakers, and it was steaming hot as we climbed, though the air temperature hovered just over freezing.


When we were just over half way -- that is, after about a half-hour of unrelenting effort -- we heard a car honking wildly and repeatedly as it rose up the road behind us. "Watch out," I said to Nello. "Some crazy lunatic, speeding up the Col." As the car got nearer, we heard shouting and cheering. It was Nello's brother Enrico and sister Lia, and their respective partners Anna and Primo! They had driven over 250 kilometres from Varese, north of Milan, to see us. When they caught up with us, we of course did not stop the climb, but just carried on, with the Ghezzos cheering us on at every bend, and Harry and Hugh doing the same, as well as taking photos.
We finally reached the Col at 2000 metres in just under an hour (58 minutes). What an overwhelming sense of achievement and satisfaction, combined with wonder and amazement at the gorgeous high alpine wonderland around us, the peaks no longer so towering above us, the snow-covered meadows dotted with brown cows taken up on high to chalets for the summer transhumance. There was an emotional reunion for Nello with his family, and once on top, we all repaired to a bar to enjoy a panino caldo -- a hot sandwich --, a glass of wine, an espresso, and much animated conversation and laughter.


From the top, the descent was fast and hairy, a succession of hair-pin bends plunging way down to the valley floor, a downhill run of almost 20 miles and a drop in elevation of over 1700 metres. Then a fast ride along the valley floor to Avigliana, where we sat outside in the sun in the campsite above a lake, enjoying a -- what to us, at least, seemed -- well-earned glass of sparkling Saumur and Anna's fruit cake with Enrico, Lia, Primo and Anna.


11:30 pmThe end of a long day: it is time for bed, we're full after a wonderfully simple meal of spaghetti aglio, olio e peperoncino and an apple. Hugh (now christened by Nello's family "Ugo") and Harry are sorting out the van. As I think back on not just today, but on all the build-up and anticipation that led to it, I am reminded of one of Ugo's sayings: Today is the tomorrow that you worried about yesterday; and all is well. So it is.


On top of Mont Cenis
---
---

---
Please send any comments about this web site or Ride for Life to:
marc@quaypress.com