Ride for Life
Topsham to Venice in Aid of Cancer Research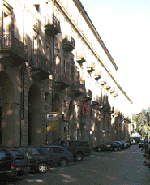 Asti in the evening sunlight.
Day 13 -- Monday June 23rd
Proposed Route: Avigliana-Alba
Estimated Mileage: 47 miles/75 km
Actual Route: Avigliana-Asti
Mileage Covered: 51.07 miles/84 km
Average cycling speed: 15.56 mph
Maximum speed: 32 mph
Cycling time: 3 hours 16 minutes.
Terrain: Flat at first, then gently undulating over the Asti and Monferrato hills.
Weather: Sunny. Wind Force 3 variable.
Degree of Difficulty:



Narrative:After the drama and excitement of yesterday, today's ride was little more than a Monday poodle, as we skirted our way around Torino and descended down to the wine town of Asti. The terrain was mainly flat, the high outline of the snow-covered Alps never out of sight. The contrast with the blizzard conditions and freezing temperatures we experienced yesterday morning, and the warm Italian sunshine and blue skies of today could not be greater.


Indeed, the contrast between our sojourn through France and our entry into Italy could not be greater either. It is not surprising that such a formidable barrier as the Alps creates a natural national frontier, a solid barrier between countries and cultures. Nonetheless, it comes always as something of a surprise -- albeit a most welcome one-- to experience so immediately and unmistakably the day to day reality of being finally in Italy. It is not just the warmth of the sunshine: there is also the immediate a warmth of the people too, as we experienced yesterday with Nello's family. On the other hand, the roads are worse, the surface especially bad for cycling (today we rode our Orbits again, and I am surprised that we did not puncture our thin tires or bend our rims). There is lots of noise and activity, too -- mopeds and scooters, people in the streets, markets, smells and colour -- a considerable contrast to the quiet, indeed isolation of much of rural France that we passed through, hamlets and towns where people seem to live behind their doors, not outside of them.


Neither Harry nor Hugh have been to Italy before, so it is all a new experience for them. No more patisseries in every village for tartes aux fraises or charcuteries to purchase lunch, certainly, but Italy is second to no country in gastronomic pleasures and treats, we keep assuring them: there is for a start quite simply the best gelato in the world,not to mention Italian espresso, a treat we indulged ourselves en route during today's cycle. The towns and campsites are less well sign-posted, and they are finding the driving and navigation less easy than in France. But these are early days, and they will acclimatise quickly, we are sure. Italy, after the order and tranquility of rural France, may seem somewhat chaotic and hectic at first: but this is a country that quickly gets under one's skin and we certainly hope that they will enjoy the next few days as much as we know we will..


As far as the cycling goes, we are defintely over the hump now (and a jolly big hump it was, too), and though it is not quite downhill all the way to Venice, the riding itself should be relatively straightforward, relaxed and enjoyable.


So tonight, another chance to catch up with some friends, winemaker Mario Fontana from Alba as well as Mario Ferraris, who worked at Nello's as a chef last year, and whose family has a rosticceria here in Asti. What's for dinner tonight? Some nice ripe Italian melon followed by a grigliata mista cooked outdoors over charcoal.
---
---

---
Please send any comments about this web site or Ride for Life to:
marc@quaypress.com