Ride for Life
Topsham to Venice in Aid of Cancer Research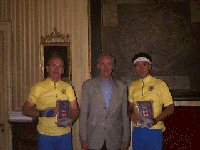 With the Mayor of Alba, Ing. Enzo De Maria, at a Civic Reception to welcome us in the Palazzo Comunale.
Day 14 -- Tuesday June 24th
Proposed Route: Day in Alba
Estimated Mileage: 10 miles/16 km
Actual Route: Asti-Alessandria
Mileage Covered: 24.46 miles/ 40 km
Average cycling speed: 18.57 mph
Maximum speed: 29.9 mph
Cycling time: 1 hour 19 minutes.
Terrain: Undulating..
Weather: Sunny. Wind Force 2 mainly on the nose.
Degree of Difficulty:



Narrative: This morning we cycled into Alba's historic Piazza del Duomo to a Civic Reception with the mayor and vice-mayor of this famous wine town, center of the Barolo vineyards. We were welcomed by Alberto Cirio, vice-mayor, together with our friend winemaker Mario Fontana of Castiglione Falleto, and other locals. Afterwards, we were presented to the mayor, Ing. Enzo De Maria, in the atmospheric and splendid Palazzo Comunale, who presented us with a gagliardetto or standard of the town.


Today's proceedings had been organised by Mario Fontana in conjunction with the vice-mayor, and the local press, La Gazzetta d'Alba was on hand to record the proceedings. Mario had also managed to raise from friendss and local businesses some 650,000 lire for our fund for cancer research and treatment, and this money, together with all funds raised in Italy, will be offered to the Ospedale Civile di Venezia. Indeed, at this stage of our Ride for Life, it is important to remind everyone once more of the motive for this project, and in particular, the link between FORCE, our Westcountry cancer charity, and the Venice Civic Hospital: Dr. Chris Rowland, Chairman of FORCE and Consultant at the Royal Devon & Exeter Hospital, pioneered new applications for the Selectron Radiation machine together with colleagues in Venice, and we ourselves are raising funds to go towards the purchase of the latest version of this machine.


Unfortunately, our time in Alba was too brief. The hospitality and warmth of our friends, as always, was overwhelming and we would have dearly loved to stay and spend some time together. But the demands of the road, the need to move on ever closer to our destination, was pressing. Thus, we regretfully declined an invitation for a visit and dinner but Mario's mother, Signora Fontana, insisted that we take with us a wonderful meal of the Langhe: tajarin homemade fine taglierini noodles which Nello simply prepared with butter, extra-virgin olive oil, sage and rosemary, brasato al Barolo beef stewed in Barolo wine, and torta di nocciola hazlenut cake, a marvellous and classic meal of the zone, accompanied by a bottle of young Nebbiolo from last year's vintage, drawn from the cask only this morning and clearly destined to be a great Barolo.


After downloading yesterday's website from the Bar Rossetti, we returned to Asti, and from there had a short but fast and exhilarating ride to just north of Alessandria. The Tour de France, as everyone knows, consists of a range of different types of rides that place different demands on the participants, from short lightening fast time trials, to arduous mountain stages, to longer, flatter rides that favour the sprinters. Today's ride for us was something of a quick 25 mile time trial.Not that we were racing, of course. Well, only for part of the way, at least. As we clipped along at an already brisk pace, a keen cyclist, dressed in all the gear and on a flashy Bianchi racer glided past us. "Andiamo?" I asked Nello. He nodded, and we set off after him. When he sensed we were on the chase, he picked up the pace, but once we caught him -- a little, stocky guy with calf muscles like a pregnant woman's belly -- we stayed with him then moved in front. We continued to ride together, sharing the lead, then Nello got talking to him. "Where are you going?" asked Nello. "To Rocchetta," he answered (that was the next village down the road). He then asked Nello where we were going. Nello said, "To Venice. From England." "Si, si, in una giornata?" Yeah, in one day? "No, we've made a few stops," Nello replied. "Well," he said, after a moment, "At this fast pace, you'll never get there," and with that he peeled off the road at the next exit and we saw no more of him.


Too fast? No, I don't think so. It's been at times a long and seemingly endless road. But it is nice now to be finishing strongly. The aches and pains of last week have miraculously disappeared in the warmth of Italy and we are well on to the home stretch now with just over 200 miles over the next three days, a distance that at the start of the trip would have seemed onerous but which now we know is well within us.


It is now almost 11:30 pm, and we are just going to spray the van as there are loads of mosquitoes here, then head to the bar for an espresso and a nightcap. We're feeling very replete and satisfied after tonight's delicious meal, so thanks again to Signora Fontana. Mario, could you please have your mother send us the recipes for our Ride for Life Cookbook.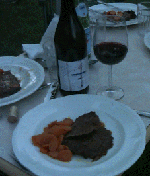 Brasato al Barolo made for us by Signora Fontana.
---
---

---
Please send any comments about this web site or Ride for Life to:
marc@quaypress.com