Ride for Life
Topsham to Venice in Aid of Cancer Research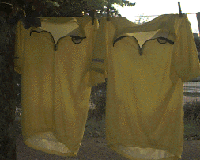 Les maillots jaunes.
Day 5 -- Sunday June 15th
Proposed Route: Santilly-Orleans-Cosne sur Loire
Estimated Mileage: 90 miles/145 km
Actual Route: Orleans-Sancerre-Pouilly sur Loire-La Charite sur Loire
Mileage Covered: 96.33 miles/159 km
Average cycling speed: 15.9 mph
Maximum speed: 28.2 mph
Cycling time: 6 hours 05 minutes.
Terrain: Mainly flat.
Weather: Sunny with some cloudy spells. Wind SW-W Force 2.
Degree of Difficulty:

Narrative: The Loire, for this trip as for many others, is a watershed: the point of reaching it, and going beyond, always marks the start of a new phase. The dismal weather of Normandy, for example, this morning gave way to glorious sunshine, not unremitting, still plenty of cloud about which kept the day cool and fresh, but without ever the threat of rain. We left Orleans at about 9.15, and as we cycled out of town along the river, we thought of our regular Sunday cycling gang -- Barrie, Ben, Phil, Martin, Ken, Cliff and the others -- probably heading out at the same time to Budleigh or Mamhead for our regular ride. Well,we were riding with them in spirit, certainly, and as we passed other Sunday cyclists, we felt proud, almost as we were our own team, even though the others weren't with us. How splendid, it seemed, to be riding along the banks of the Loire on a sunny Sunday morning with hardly a care in the world, passing through the very heart of France, and wearing our bright yellow jerseys, to boot.


The significance of this was brought home almost immediately to us when we set out. As we passed a large group of cyclists, the leader grinned as he passed us, and said half-mockingly, "Heh, les maillots jaunes!" A little further down the road, we passed another cyclist, serious, calf muscles like Charentais melons, wearing just a cloth cyclist's cap instead of a helmet; he hardly responded to our greeting, glared at us and our bright attire, then deigned to give us no more than a contemptuous Gallic shrug. Later, when we stopped in a tiny village in the Sologne -- a collection of stout stone-built houses, a church with its old washhouse in front of it, a bar, tabac, and boulangerie/patisserie -- the attractive and bright young woman we bought some lunch from, as she spread the baguettes with butter, then jambon, said admiringly, "ahh, le maillot jaune", as if, for all the world, Miguel Indurain and Laurent Jalabert had just walked into her shop.


The day's ride was as magnificent and as enjoyable as yesterday's had been tedious and painful. The Loire, broad and slow and wide, was never far from sight. The road was flat and being Sunday, there was little traffic. The wind-- what little there was -- was sometimes even behind us. And the sun shone, though it was never hot. We rode at a steady, relaxed pace as we were in no hurry; having already covered so many miles, we actually felt, for the first time, as if we were almost ahead of ourselves. And it felt good to be passing through the villages and towns, gliding through almost imperiously, brightly visible in our splendid yellow jerseys.


Of course, to wear a yellow jersey in France in the weeks just before the start of the Tour might suggest, perhaps, a touch of arrogance, or that we consider ourselves serious competitors, even potential champions. No, not a bit of it. We were just out for our regular Suday ride. Well yes, I suppose that when my son Guy wears his Man United strip, collar up, dribbles down the pitch, shoots and scores, one senses a swagger not entirely unlike that of Eric Cantona. Or when his mate Tom feints, then tries an audacious shot from nearly the half-way mark, he throws his head back and sweeps the hair out of his eyes in a manner that can only be described as Beckhamesque.


After cycling down roads lined with dappled plane trees, passing through quiet villages in the deepest heart of rural France, then under the great wine town of Sancerre, we stretched our legs abit, took each other on and really pushed it, racing through the lanes into Pouilly-sur-Loire. When we arrived, there was a concours of boules taking place along the promenade by the river, with dozens of deadly serious contests in action. There were tents selling wine and drink, and stalls of food, too. We stopped to watch, leaned against a bank, and, thirsty from our days' exertions, drank a couple of bottles of biere, slightly self-conscious of the stares at us, as we posed resplendent in our maillots jaunes. Then, as we cycled out of that famous wine town, a car of young girls passed us, and one stuck her head out of the window, her chestnut hair swept back by the wind, and almost sang to us what sounded like "on va gaigné, on va gaigné," the chant, we supposed, given by fans and groupies to their favourite Tour riders.


Today was one of the finest cycles I have ever experienced. And you know, I really almost felt as if we had earned the right to wear our maillots jaunes on this our own personal Tour de France and Giro d'Italia rolled into one, our Ride for Life. At the end of the day's cycle, as we relaxed in the deckchairs at the campsite here at La Charite sur Loire, some 40 kilometres beyond schedule, exhausted but exhilarated at the same time, I suddenly felt a splat on my shoulder: yes, the goldfinch singing so gaily in the trees above us had also admired my maillot jaune.
---
---

---
Please send any comments about this web site or Ride for Life to:
marc@quaypress.com