Ride for Life
Topsham to Venice in Aid of Cancer Research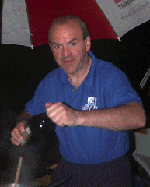 "I'm cooking in the rain..." sings Nello on our day off.
Day 6 -- Monday June 16th
Proposed Route: Cosne sur Loire-Pouilly sur Loire
Estimated Mileage: 20 miles/32 km
Actual Route: As we are 10 km south of Pouilly, our intended destination, today is a total rest day from cycling.
Mileage Covered:
Terrain:
Weather:
Degree of Difficulty:
Narrative: Rest Day from Cycling and the Internet! Lunch in Sancerre at Restaurant La Tour. Afterwards to Caves de la Mignonne to taste wine and buy crottin de Chavignol goat's cheese.
---
---

---
Please send any comments about this web site or Ride for Life to:
marc@quaypress.com