Ride for Life
Topsham to Venice in Aid of Cancer Research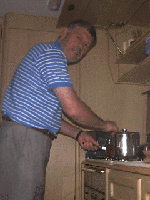 Hugh cooks breakfast every morning.
Day 7 -- Tuesday June 17th
Proposed Route: Pouilly sur Loire-Nevers-Decize-Digoin
Estimated Mileage: 90 miles/145 km
Actual Route: La Charite sous Loire-Decize-Digoin-Paray Le Monial
Mileage Covered: 92.44 miles/152.5 km
Average cycling speed: 17.07 mph
Maximum speed: 34.8 mph
Cycling time: 5 hours 25 minutes.
Terrain: Undulating but not overly testing.
Weather: Cloudy with showers, some very heavy. Wind light variable.
Degree of Difficulty:


Narrative: Last night's torrential rain (see Day 6 for a picture of Nello cooking outside during a thunderstorm) had relented by this morning, so we are able to set out from La Charite under cool, grey skies, our destination to cut across country, over the Nievre and Allier departements of the Massif Central into Burgundy. The terrain was more testing than previous rides, but still not overly demanding: those considerable challenges still lie before us, and indeed the fun starts tomorrow with the prospect of a really interesting and testing ride.


Today's challenge was to put in another long ride in order to gain miles once more, to get across central France and closer to our destination. As we cycled on quiet, sometimes nearly empty D roads between Nevers and Digoin, we found ourselves in isolated, often thickly wooded country, no where near as intensively cultivated as other areas we have gone through, the farms smaller, with mixed agriculture: perhaps a meadow with some white Charolais cattle, a plot of vegetables, a field or two of grain, some woodland. The villages were almost deserted, and we saw very few people as we wheeled our way through them. The main activity seemed to be taking place not in the hamlets and villages, but along the stretches of canals that interconnect one with another, between the rivers that flow into the great waterway of the Loire, which we were still mainly following. Indeed, we passed magnificent canal bridges, with complex systems of locks which actually span other rivers, and barges and pleasure boats lined up to enter them. Otherwise this was lonely, high country, seemingly as far from Paris and the rest of France as can be imagined.


The main problem today was not the terrain but the unpredictable weather: we escaped a drenching when we stopped for lunch the other side of Nevers, but were caught out in torrential downpours in the afternoon. Between times, it was either chilly when it was overcast, or surprisingly hot in the fleeting flashes of sunshine. It was impossible to know what to wear, and at times we suffered from the cold, at other times were bakingly overheated. Still, the support van stayed close to us today, and at difficult moments were never far away. So a big thanks today to Hugh and Harry.


And so we arrived at the end of the day at Paray Le Monial, site of the great Romanesque basilica, once part of the Cistercian religious order that was so powerful in Burgundy.This order, at its sprawling and beautiful monasteries at Citeaux, Cluny and elsewhere, grew to incredible importance and wealth, based in part on its considerable landholdings, not least some of the most famous and prestigious vineyards in the Cote d'Or. The monasteries of course were dissolved in the French Revolution, but that at Citeaux, east of Beaune, is populated with monks once more, who no longer make wines but instead an exquisite cheese that is a fitting partner to them. We visited Citeaux some years ago, and I remember being impressed at the time by the monks' disciplined lifestyle: they awake each day at 4 am, pray, begin work, eat, pray some more, work, study, eat, pray and go to bed quite early. I always envied their productivity, their simplicity, their sureness and focus, their lack of distractions.


It occurs to me that our present existence is not entirely unlike that of the monks of Citeaux: we wake early, we eat, we ride our bikes a very long way all day long, we arrive in the afternoon and shower, we work (Nello cooking, me writing, Brother Hugh and Brother Harry with chores around camp), we eat, then we go to sleep early (the four of us) in a space that is considerably smaller than a monk's cell. The next morning is the same. There is very little time for anything else at all. All that is missing is the copious amounts of praying. But we may even well find ourselves doing that come the Alps.


Tonight's menu: salade de crottin chaude de Chavignol, followed by chicken breasts braised with fennel. (As I say, like those monks of old at Cluny and Citeaux, the simple life has its compensations.)
---
---

---
Please send any comments about this web site or Ride for Life to:
marc@quaypress.com