Ride for Life
Topsham to Venice in Aid of Cancer Research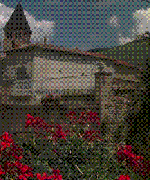 Beaujeu, capital of the Beaujolais, our lunchtime stop today.
Day 8 -- Wednesday June 18th
Proposed Route: Digoin-Charolles-Macon-Chatillon-Villars les Dombes
Estimated Mileage: 82 miles/130 km
Actual Route: Paray le Monial-Charolles-Col des Echarmeaux-Beaujeu-Belleville-Villars les Dombes
Mileage Covered: 73 miles/ 120.5 km
Average cycling speed: 14.52 mph
Maximum speed: 35.1 mph
Cycling time: 5 hours 01 minutes.
Terrain: Mountainous and undulating.
Weather: Overcast at first, cool, then sunny.
Degree of Difficulty:





Narrative:Today was, as Nello and I say, una buona pedalata a good, testing ride. Faced with the prospect of a hilly route along a busy, dangerous route nationale by way of Macon, and a far more testing and arduous route on minor roads over the Monts du Beaujolais down to the wine town of Beaujeu itself, and so across the Saone to Villars, we opted for the latter. There was really no choice: the red roads are really horrendous, narrow, busy, with no -- or very little -- hard shoulder. The TIR lorries thunder down them and refuse to ever slow down; their bow wake is a blast of air that sometimes nearly blows us off our bikes; they often honk their airhorns when they are right behind us, scaring the life out of us; and if another such monstrosity is approaching in the oncoming lane, they pass by us frighteningly close, with literally no margin for error. It is a very, very upleasant experience, to say the least.


And so we decided to change our planned route for a ride that involved alot of climbing, but which well rewarded us with peaceful and relatively safe roads, beautiful mountain scenery that is a foretaste of more spectacular things to come, and the treat of descending into a lovely wine town on market day. After a brief and harrowing stretch along the nationale from Paray le Monial to Charolles, the town famous for the superlative breed of white cattle named after it, we headed due south on a yellow D road that immediately began to climb to the lovely little town of La Clayette, set on a lakeside, and dominated by an impressive moated chateau. To the left always were the high outlines of the Monts du Beaujolais, the granite range on whose lower eastern slopes grow the Gamay grapes that produce both the crus Beaujolais, as well as the floods of grapey, sometimes gulpable, sometimes wholly indifferent wine that is enjoyed each year as nouveau in November.


Believe me, at this point, the last thing on our minds was wine. The cycling itself was hard enough: though there were breaks in the climbing, the road was constantly up and down, with many more ups than downs, as we gradually made our way up the steep approach to Propieres and the Col des Echarmeaux, at 720 metres high. From there, we had an exhilarating and frightening descent down a winding road towards the town of Beaujeu. As we swung around a bend at speed (probably travelling about 35 mph, today's maximum), the vineyards now all around us, Nello's front tire blew out totally. Fortunately, he managed to keep control and did not wipe out. It was bad luck indeed: we were riding our Orbits because yesterday he had punctured and broken two spokes off the rear wheel of his Bob Jackson, and the support vehicle had spent the morning having it repaired.


The morning market was just winding up as we arrived in Beaujeu, but we still paused here for an excellent picnic with Hugh and Harry. Then, down through the vineyards of Regnie and Brouilly, and so across the Saone, another watershed crossing, marking the point of entry into Eastern France and the Alps. We have some good riding ahead of us and we are looking forward to the prospect.


As we passed through Beaujolais and the hinterland of the Lyonnais today, our menu reflects this: rosette de Lyons with cornichons followed by coq au Beaujolais with rice and fresh peas, accompanied by a bottle of Regnie purchased by Hugh and Harry en route. Then an early night as we have another long, tough ride tomorrow, unfortunately most of it on route nationales.
---
---

---
Please send any comments about this web site or Ride for Life to:
marc@quaypress.com
Day 8 Sponsored by

3-7 Station Road
Knowle
West Midlands B93 OHL
tel: (01564) 772222

Our Sponsors